March finished with a nice flourish of activity with pending sales (new contracts written in March) up across all price points compared to last March. The pace of new listings entering the market was still slower than last year for properties under $250,000, putting continued pressure on already scarce For Sale inventories. Clean, well-priced homes are going fast, with 25% of homes selling in 10 days or less and 55% in 30 days or less.
The $250,000-$500,000 markets saw a slight 4.5% rise in inventory but a huge 31% rise in activity. Although sales activity in the over $500,000 luxury home market increased by 4% over the first quarter of last year, the 11% rise in listing inventory made the market feel slower to many high-end sellers.


Local supply and demand drives value changes as the statistics in the above chart reflect. Supply and demand can vary dramatically within the different price ranges and markets, affecting appreciation accordingly. First Quarter 2016 value per square foot jumped the most (9% over 1st Quarter 2015) in the Under $150,000 price range, where the inventories are the tightest (15% lower than 2015). For $150,000-$250,000, again with low inventories, values jumped almost 3%. In the $250,000-$500,000 markets, with inventories rising, values rose just under 2%, and for the over $500,000 markets, with inventories rising over 11%, values were flat.
Buyers
In all price segments, there is a shortage of nicely detailed and updated homes. Again, the great ones go fast and often with multiple offers. Buyers need to be diligent in monitoring new homes as they hit the market, patient in waiting until the right home appears, and ready to jump when it does. The best homes often sell in hours instead of days. To win the race to the deal, buyers need to monitor new listings constantly, and be prepared to write with earnest money deposits and approval letters.
We are often asked how far values have come back from the peak point of 2005/6 in Southeast Michigan. Using Case-Shiller data we can estimate about how far we have moved over the past 10 years. Case-Shiller shows we are back to early 2001 values, but since they tend to run 6-8 months behind in their date, we are really closer to late 2001-early 2002, which puts us back to about 85% of peak values. There are many markets that are back to peak and some lagging behind, but on average, 85% is a good number to use. It is also interesting to note that we are now back in line with the long-term value trends (the orange dotted line) if values had followed their long-term trend, instead of the roller-coaster ride we all took.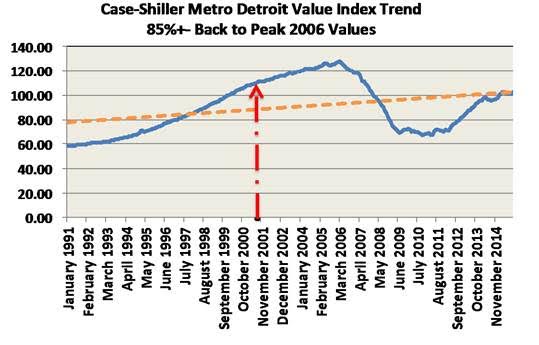 Demand for Detailed Homes

Prior to the recession, buyers freely used home equity loans to update kitchens, baths and do other home improvement projects. The recession pulled the plug on the availability of home equity loans for most homeowners. Buyers have fewer freshly updated and decorated homes to choose from. Since most buyers aren't in a position to qualify for an equity loan when they first buy, the easiest way to finance updated kitchens and baths is to buy a home that already has them. Buyers want it easy and are willing to pay a premium to get that detailed home.
Last year Southeast Michigan broke records for both sold units and sold dollar volume. We are off to an even better start in 2016 with both units and volume. That kind of activity combined with low inventory is a perfect recipe for value growth.